Letters to Gracie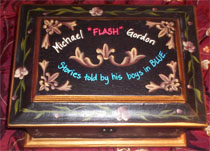 Letters To Gracie
~Guin Gordon
The day after Michael's funeral I met a few friends out from the 11th district. I wanted to thank them for everything they did for him during his time in the district and everything they tried to do for him in his last moments.
But these officers, these wonderful, caring, thoughtful officers instead presented me with a gift. It was not for me but for our daughter Grace and her brothers.
It was a lovely box, almost like a small treasure chest and written on the top was Michael 'Flash' Gordon Stories told by his boys in blue and what was inside was probably one of the most beautiful things I've ever seen. It was filled almost to the top with News articles that were written about his death and what a great cop he was; poems about being a police officer; and best of all ...letters addressed to Gracie about the kind of man Michael was.
I was floored. When did they find the time to put something like this together? Where did they find the strength? Many of these men were grieving as much as Michael's blood family.
As I started to read the letters I realized that these were more than just STORIES, they were testaments as to the kind of man Michael was, not just a policeman but a father and a husband.
---
Click on a letter in the picture below to read it.